Double SARRC and Time Trials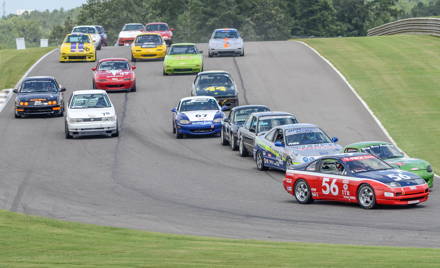 SCCA - Tennessee Valley Region - Club Racing
Saturday, Aug 26 — Sunday, Aug 27, 2023
Barber Motorsports Park
,
Birmingham

,

AL
Registration closed August 22, 2023 11:59 PM at 2023-08-22T21:59:00-0700 Registration ends August 22, 2023 11:59 PM at 2023-08-22T21:59:00-0700 Registration opens June 13, 2023 1:00 AM at 2023-06-12T23:00:00-0700 Registration runs from June 13, 2023 1:00 AM to August 22, 2023 11:59 PM
ALABAMA & TENNESSEE VALLEY REGIONS Present the SCCA Double SARRC and Time Trials to be held on the 2.38 Mile Barber Motorsports Park Road Course.
Sanction #: 23-R-60149, 23-TTTA-60903
Entry fee for the Double SARRC is $580 per car / per race group. Entry fees for the Time Trials are $275 (One Day TT) or $420 (Two Day TT). SARRC entries will have a Volunteer Support Fee ($50) added. The system requires you to add your credit card information when you register, however, your card won't be charged until you arrive at on-site registration. If you don't have a credit card, please contact the registrar, Betsy Speed, at 704-575-5960 and she will manually enter you.
Road Race drivers wanting additional practice time before the Saturday Race should sign-up for the Saturday One Day or Two Day Time Trials, in addition to the SARRC.
Car Eligibility: SARRC is open to all SCCA and SARRC recognized classes (www.sedivracing.com) with a current SCCA Logbook, as well as IT-EZ (https://www.flscca.com/specific-car-class/), ITT (http://atlantascca.com/programs.roadracing.html) and SPECMX-5 (https://www.mazdamotorsports.com/wp-content/uploads/2023/01/Mazdas-Spec-MX-5-Rules-and-Regulations-1.3.2023.pdf).
The Time Trial sessions are open to all vehicles conforming to the current GCR, IT-EZ, ITT, SPECMX-5, SEDIV Regional, and National Time Trials Classes (https://timetrials.scca.com/pages/classmycar).
Supps & Schedule: 2023 Barber Supps SARRC TT FINAL Revised 081823.pdf
Drivers Letter: ALA_TVR_Barber_DriversLetter_2023.docx
Race Groups for SARRC: Group 1: EP, FP, HP, GTL, STL, T3, T4, ITB, ITC, SPU, BSpec, CSpec. Group 2: P1, P2, FA, FX, FE, FE2, FS, F6, FF, FV, FC, FST, CF. Group 3: SRF, SRF3, IT7, ITA, ITR, ITS, IT7R, ITEZ, MXP, GT3: Group 4: SM, SMSE, SMT, SMSET, SM5, SMX. Group 5: AS, ASR, GT1, GT2, T1, T2, GTA, GTX, ITO, SPO, STU, SC (Note SM5 removed)